Video Games Creativity and Learning
How can video games be combined with creativity to help learning? We developed an app that allows anyone to draw their own video games.
We explore how modern tangible interfaces and video game technologies allow for a more efficient and more rewarding learning experience. By combining mobile technology, an adaptive visual programming environment, tangible interaction, intelligent tutoring systems and augmented reality, we are investigating how to enhance creativity and improve computer science education for children. We also explore the use of adaptive learning within the virtual and augmented reality contexts.
Towards Automatic Drawing Animation using Physics-based Evolution
L. Lingens, S. Magnenat, R. W. Sumner
Interaction Design and Children (IDC '20 Extended Abstracts)
More Info | DownloadPDF (PDF, 659 KB)vertical_align_bottom | external pageVideocall_made

A Creative Game Design and Programming App
J. Chatain, O. Bitter, V. Fayolle, R. W. Sumner, S. Magnenat
ACM SIGGRAPH Conference on Motion, Interaction and Games (MIG 2019)
More info | DownloadPDF (PDF, 4.3 MB)vertical_align_bottom | DownloadBIB (TXT, 279 Bytes)vertical_align_bottom

Adaptive Tutoring on a Virtual Reality Driving Simulator
S. Ropelato, F. Zünd, S. Magnenat, M. Menozzi, R. W. Sumner
1st Workshop on Artificial Intelligence Meets Virtual and Augmented Realities (AI-VR) in conjuction with SIGGRAPH Asia 2017
More info | DownloadPDF (PDF, 7.2 MB)vertical_align_bottom | DownloadBIB (TXT, 548 Bytes)vertical_align_bottom

Improved Mobile Robot Programming Performance through Real-time Program Assessment
R. Siegfried, S. Klinger, M. Gross, R. W. Sumner, F. Mondada, S. Magnenat
ITiCSE '17 Proceedings of the 2017 ACM Conference on Innovation and Technology in Computer Science Education
More Info | DownloadPDF (PDF, 991 KB)vertical_align_bottom | DownloadBIB (TXT, 810 Bytes)vertical_align_bottom

Augmented Creativity: Bridging the Real and Virtual Worlds to Enhance Creative Play
F. Zünd, M. Ryffel, S. Magnenat, A. Marra, M. Nitti, M. Kapadia, G. Noris, K. Mitchell, M. Gross, R. W. Sumner
SIGGRAPH Asia 2015 Symposium on Mobile Graphics and Interactive Applications
More Info | DownloadPDF (PDF, 14.6 MB)vertical_align_bottom | DownloadBIB (TXT, 834 Bytes)vertical_align_bottom | external pageVideocall_made

An Approach to Easy 2-D Sprite Animation by Non-Specialists
S. Magnenat
Combining Intelligent Tutoring Systems and Automatic Story Generation for Personalised Tutoring with Mobile Robot

s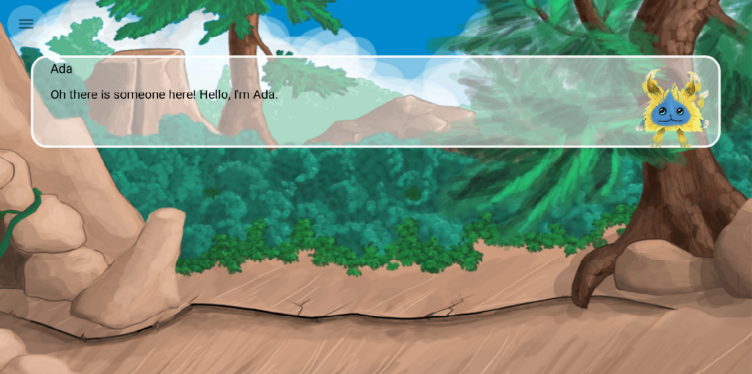 by Marie Woon
more info